KronoSafe System is the first Temporary Pacemaker with Active-Fixation Leads:
Patient comfort and autonomy during their hospital stay
Compatibility with most pacemaker generators on the market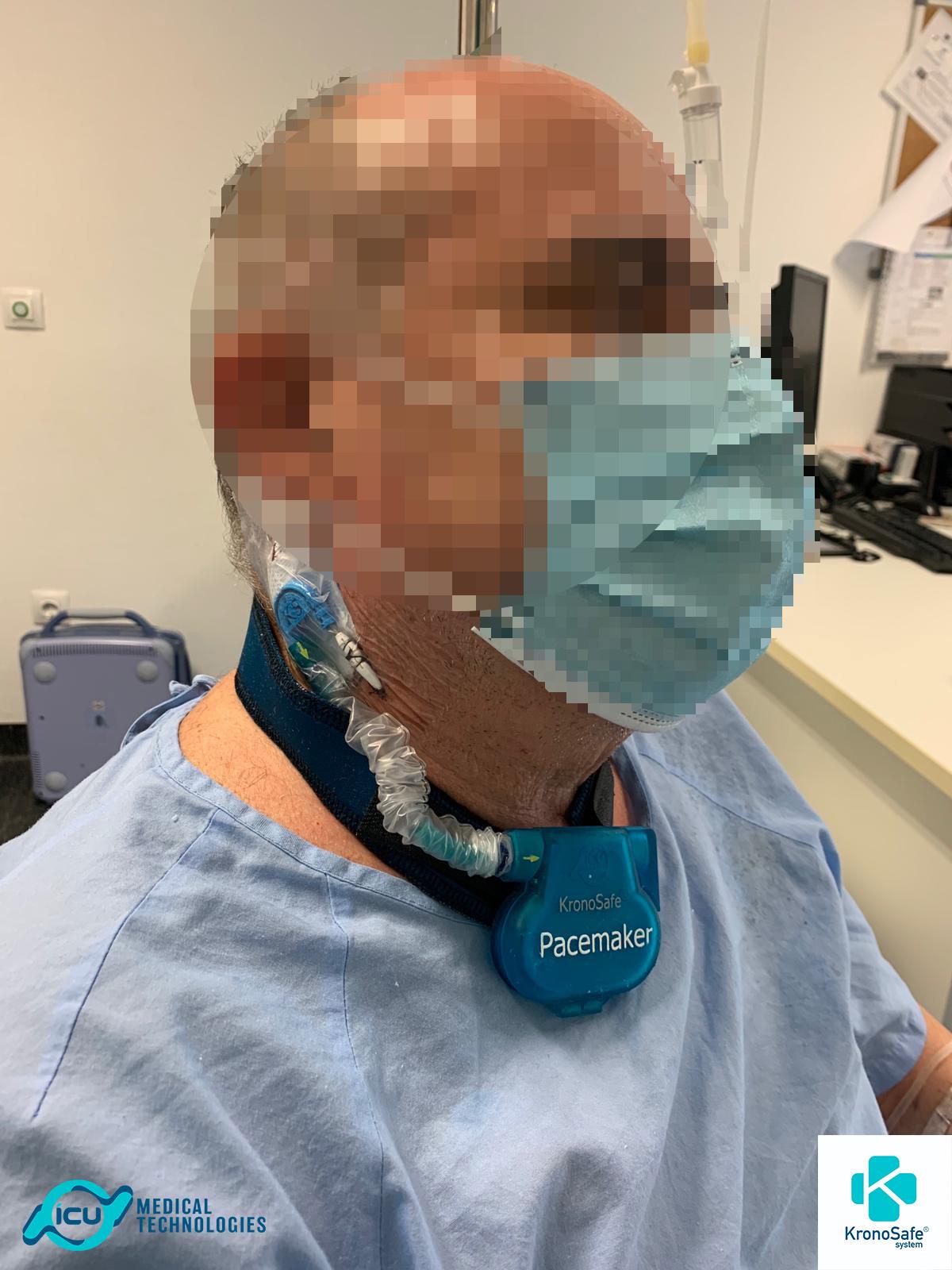 When can we use KronoSafe®?
We provide greater security and effectiveness for longer
Procedures with high risk of AVB (TAVR / Septal Ablation) and early rehabilitation in the hospital ward
Epicardial pacemaker dysfunction in postoperative cardiac surgery, bridge to rhythm recovery
CIED infection requiring antibiotic treatment prior to implantation of a new system
Secondary high-grade blockages, bridge to recovery
FAQ
Frequently asked questions
Which clinical results have been obtained with KronoSafe®?
The first clinical study was carried out with 20 patients in which KronoSafe® was used to perform Temporary Cardiac Pacing. Pacemaker performance was optimal in all patients, no complications were recorded, and ICU stay was reduced by 85%.
How is KronoSafe® placed?
Once the lead implant is finished, and before its connection to the generator, the electrode sleeve is placed. After, the pacemaker generator is inserted into the case, and the neckband is placed. It is a simple assembly as shown in the following video https://youtu.be/TIdhOcpjR5c
How is an Active-Fixation Lead implant?
It is a procedure similar to Non-Fixation Lead implant, with a short learning curve all critical care physicians. The steps to do it are explained in the following video: https://youtu.be/c56hYFtpJMQ
Which pacemaker generators are compatible with KronoSafe®?
The dimensions of the case are 7cm x 5.5cm x 1.5cm. The case size makes it compatible with most single and dual chamber generators on the market. The generators are reused, making the procedure efficient.
Which leads are used in this procedure?
A new definitive active-fixation lead is used. When the therapy finished, the lead is always discarded. If the patient needs definitive cardiac stimulation, a new sterile electrode will be implanted.
When will KronoSafe® be available?
We are currently in the certification process. Our product has already been classified by the Spanish Medicines Agency (AEMPS), and we plan to start selling at the end of 2021.
OFfice
Edificio Innova – Universidad Miguel Hernández de Elche 
Avenida de la Universidad s/n 
03202 Elche, Alicante